A 4mm long Australian stingless bee, Tetragonula carbonaria, in flight, carrying a two huge balls of pollen on her hind legs. This excellent action photograph is by 'Peter O':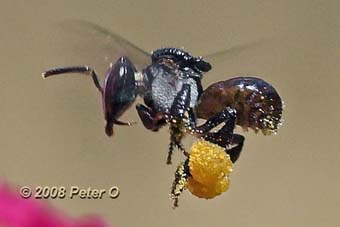 Lonni Aylatt captured these wonderful close up images of our native Tetragonula stingless bees, hard at work in their resin nest. These photographs were kindly sent into Aussie Bee by Lonni's father, Keith Bragg: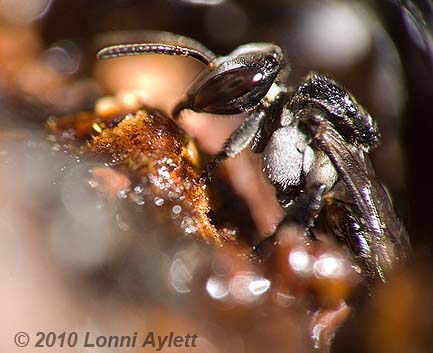 Above: in this photograph you can see the even coating of thick white fur that all Tetragonula carbonaria and Tetragonula hockingsi bees have on the sides of their thorax.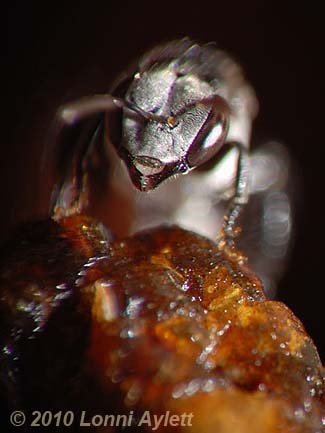 Above: these bees also have thick white fur on their faces. Lonni's photograph clearly shows this bee's large glossy compound eyes and the strong mandibles (or jaws) which the bee uses to work the resin materials in the nest.
---
Erica Siegel of Queensland photographed this tiny Tetragonula stingless bee collecting pollen from some flowers: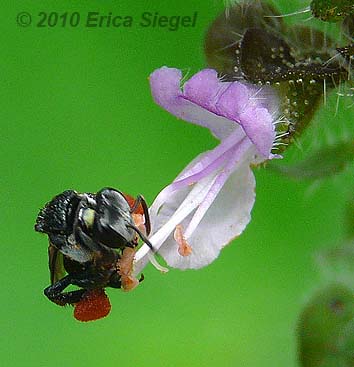 Above: stingless bees pack pollen into round balls on their hind legs to carry it back to their nests.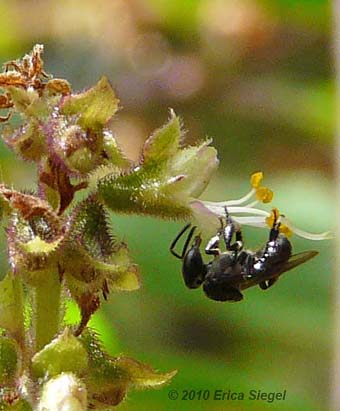 ---
A Tetragonula carbonaria worker bee (previously called Trigona carbonaria) doing the hive housekeeping -- dragging a dead bee out of the hive. These tiny bees have white fur on their faces and sides. Another stunning close up photograph contributed by Peter O: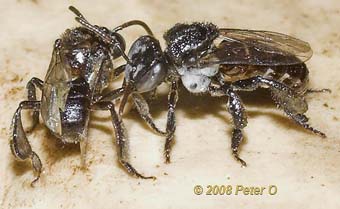 A fascinating photograph by 'Peter O' of a stingless bee receiving some rather unwelcome attention!

More Information on Stingless Bees
Guidebooks on Keeping Stingless Bees

New Native Bee Photographs

Search Aussie Bee Website:





Author: Anne Dollin
(See Anne Dollin's Google+ profile)

© 1997-2018 Australian Native Bee Research Centre
PO Box 74, North Richmond NSW 2754, Australia