HOW TO RECOGNISE THE DIFFERENT TYPES OF AUSTRALIAN STINGLESS BEES
(Third Edition):
a downloadable eBook

Aussie Bee > Aussie Bee eBook Shop > How to Recognise the Different Types of Australian Stingless Bees eBook



OR Email us to buy offline with Bank Transfer
($10 processing fee for offline orders)

---
How to Recognise the Different Types of Australian Stingless Bees
by Anne Dollin
(Aussie Bee)

Price: $8.00
3rd Edition (2017)
Learn about the different types of stingless bees found in Australia based on the findings of the Australian Native Bee Research Centre, including step-by-step identification charts and detailed descriptions.
Note: This eBook covers only our 11 species of social stingless bees (Tetragonula - previously called Trigona - and Austroplebeia). It does not discuss in detail our solitary species such as blue banded bees or leafcutter bees. For details on Australia's 1,700 solitary bee species, see our eBook Introduction to Australian Native Bees and our Native Bee Field Guide.
"Love love love this book. ... it's a great guide that I am sure I will look over many more times for reference. "
-- Jason Lloyd, Kallangur, QLD.
Two sample pages from this ebook...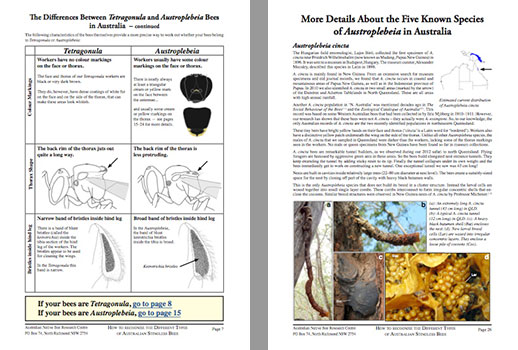 ---
---
"After outback safaris and intensive microscope work stretching over 35 years, we are now excited to present to you a complete guide to identifying all of the Tetragonula and Austroplebeia species in Australia!'
-- Dr Anne Dollin, Aussie Bee
TOPICS INCLUDE:
A brief look at other kinds of native and introduced bees in Australia.
Stingless bee anatomy.
Australia's two genera of stingless bees, Tetragonula* and Austroplebeia (*Previously called Trigona)
The Six Tetragonula Species (based on our 1997 revision paper):
How to distinguish our six Tetragonula species.
History, nests and distributions of our six Tetragonula species in detail:
-- T. carbonaria
-- T. hockingsi
-- T. davenporti
-- T. mellipes
-- T. sapiens
-- T. clypearis
Plus an overseas relative: Tetragonula biroi
The Five Austroplebeia Species (based on our 2015 revision paper):
How to distinguish our five Austroplebeia species.
History, nests and distributions of our five Austroplebeia species in detail:
-- A. cincta
-- A. essingtoni
-- A. australis
-- A. cassiae
-- A. magna (a new species)
The Queens, Workers and Males:
The three stingless bee castes and their duties within the nest: queens, workers and males.
How to distinguish queens, workers and males.

---
KEY FEATURES:
Format: eBook (PDF).
File size: 5.3 MB
Edition: Three (2017)
Print length: 40 pages (including cover & contents).
Page size: 30 x 21 cm (A4) -- easy to print on a home printer.
Illustrations: All photographs in full colour.
ISBN: 978-1876307271
---
REVIEWER COMMENTS:
"Highly detailed guide to identifying our Australian native bee species. This guide has been crafted in a succinct and informative format that is sure to satisfy both experienced native bees enthusiasts, and those new to this fascinating topic."
-- Peter & Penelope Wrench, Kinkuna, QLD
11 August 2019
"I found this ebook about Anne and Les's bee expeditions over 35 years really fascinating!. Bee Collection, classification and partnership with leading bee scientists to work towards getting all 11 Australian stingless bees classified and named correctly. There are clear charts and information on how to identify bee species using markings, size, body differences, colour markings and location. A must have book if you are wanting to correctly identify your bees."
-- Crystal White, Stingless Bee Buzz, Nimbin, NSW
10 August 2019
Click here for more reviewer comments.
---
ABOUT THE AUTHOR:
Anne Dollin (Australian Native Bee Research Centre & Aussie Bee) and her husband, Les, have travelled by four wheel drive to all the remote areas of Australia where stingless are found, locating nests and studying species differences. They then published two scientific papers describing all eleven Australian Tetragonula and Austroplebeia species.
in this ebook, Anne presents a step-by-step, plain-English version of her discoveries, to help all beekeepers identify their stingless bee species as easily as possible.
---
Important Note:
This eBook deals with the stingless native bees, which do NOT occur in VIC, TAS, SA, the ACT, the southern half of WA or in the colder areas of NSW.
---
All eBook orders support the native bee research work of Aussie Bee.
Much appreciated!
---



OR Email us to buy offline with Bank Transfer
($10 processing fee for offline orders)

Need help with your ebook purchase?
• Visit our ebook FAQ page.
• Take a 'Guided Tour' of the Aussie Bee Shop.