INTRODUCTION TO AUSTRALIAN NATIVE BEES
(Third Edition):
a downloadable eBook

Aussie Bee > Aussie Bee eBook Shop > Introduction to Australian Native Bees eBook



OR Email us to buy offline with Bank Transfer
($10 processing fee for offline orders)

---
Introduction to Australian Native Bees
by Anne Dollin
(Aussie Bee)

Price: $6.00
3rd Edition (2017)
Explore Australia's 1700 species of native bees, with a guide to common varieties, advice on building a native bee friendly garden and tips on how to obtain and care for the popular stingless native bees!
" An extremely well written informative ebook which is filled with clear images and descriptions of many Australian native bees as well as favourite flower varieties of these bees, bee nesting, honey and more..."
-- Crystal White, Stingless Bee Buzz, Nimbin, NSW
Two sample pages from this ebook...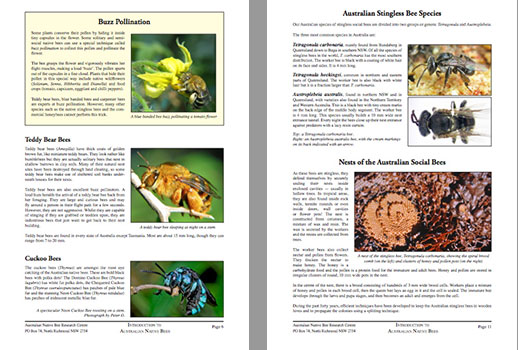 ---
---
TOPICS INCLUDE:
What are native bees?
Common bees that are not Australian natives:
-- Commercial honeybees.
-- European bumblebees.
Australian native bee varieties:
-- Masked bees.
-- Leafcutter bees.
-- Resin bees.
-- Blue banded bees.
-- Teddy bear bees.
-- Cuckoo bees.
-- Reed bees.
-- Carpenter bees.
-- Social stingless bees.
Buzz pollination.
Creating a garden for Australian native bees.
Nests of the Australian stingless bees.
Obtaining a nest or hive of Australian stingless bees.
Rescuing a damaged stingless bee nest.
Keeping stingless bees in your garden.
Honey of the Australian stingless bees.
Australian stingless bee industry.

---
KEY FEATURES:
Format: eBook (PDF).
File size: 2.5 MB
Edition: Three (2017)
Print length: 17 pages (including cover & contents).
Page size: 30 x 21 cm (A4) -- easy to print on a home printer.
Illustrations: All photographs in full colour.
ISBN: 978-1876307240
---
REVIEWER COMMENTS:
"Beautifully crafted and informative overview of the world of Australian native bees. Presented in a detailed, easy to read format, this first volume of the series contains stunning images and is a must have for anyone interested in this fascinating topic."
-- Peter & Penelope Wrench, Kinkuna, QLD
11 August 2019
"A great overview, with some beautiful photographs, of our amazing native bees. The diversity of bee life in our gardens is amazing to see once we know what to look for. This booklet gives some great advice about how to attract our native bees to our gardens. Love the info on buzz pollination!"
-- Monica Koch, Walloon, QLD
11 August 2019
Click here for more reviewer comments.
---
ABOUT THE AUTHOR:
Anne Dollin (Australian Native Bee Research Centre & Aussie Bee website) has been studying Australian native bees since 1979. She enjoys publishing easy-to-understand articles and books that show our beautiful native bees to Australian gardeners, bushwalkers and wildlife enthusiasts.
---
All eBook orders support the native bee research work of Aussie Bee.
Much appreciated!
---



OR Email us to buy offline with Bank Transfer
($10 processing fee for offline orders)

Need help with your ebook purchase?
• Visit our ebook FAQ page.
• Take a 'Guided Tour' of the Aussie Bee Shop.