AUSSIE BEE eBOOK SHOP:
COMING SOON!

Aussie Bee > Aussie Bee eBook Shop
Aussie Bee will be launching a new eBook Shop in late-August 2019*.
Our popular hardcopy booklets will be replaced by PDF eBooks, giving you:
-- instantly downloadable native bee information;
-- all photographs in full colour; and
-- a 55% lower price than the hardcopy edition (including previous postage charges).
We will announce the launch of our new eBook shop through our Aussie Bee Email Updates.
All of our Aussie Bee Email Update subscribers will also receive an exclusive discount coupon to use in our new eBook shop!
Aussie Bee Email Update is our free email newsletter, sent out two to three times a year.
If you are not already a subscriber, please visit our subscription page to secure your copy!
* We regret that the launch date of our new eBook Shop has been delayed to late August, due to circumstances beyond our control.
---
eBooks that will be available in Aussie Bee's new eBook Shop: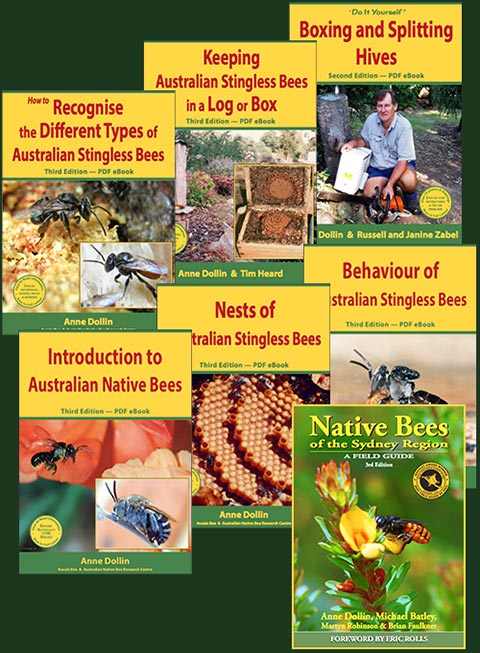 • Introduction to Australian Native Bees
• Nests of Australian Stingless Bees
• Behaviour of Australian Stingless Bees
• How to Recognise the Different Type of Australian Stingless Bees
• Keeping Australian Stingless Bees in a Log or Box
• Boxing and Splitting Hives
and
• Native Bees of the Sydney Region, a Field Guide.
Thank you very much for your interest in Australian native bees! We appreciate your patience as we set up our new eBook shop.
Anne Dollin
Aussie Bee
orders@aussiebee.com