BOXING AND SPLITTING HIVES
(Second Edition):
a downloadable eBook

Aussie Bee > Aussie Bee eBook Shop > Boxing and Splitting Hives eBook



OR Email us to buy offline with Bank Transfer
($10 processing fee for offline orders)

---
Boxing and Splitting Hives
by Anne Dollin (Aussie Bee)
& Russell and Janine Zabel (Zabel Beekeeping Australia)

Price: $8.00
2nd Edition (2017)
A step-by-step demonstration of the two most essential stingless beekeeping techniques -- boxing a nest and splitting a hive -- with over 70 photographs and drawings.
"In-depth guide to transferring bees. Whether rescuing hives from naturally found positions to splitting established boxed hives. This is a must read. Great photos to help you in the processes."
-- Stitt Man, Newcastle, NSW.
Two sample pages from this ebook...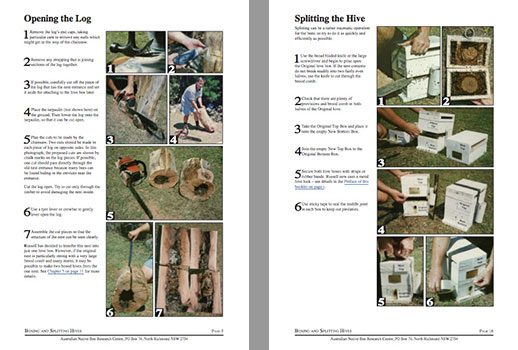 ---
---
TOPICS INCLUDE:
Rescuing a nest from the bush.
Transferring a nest into a box:
-- Preparing the materials.
-- Preparing the hive box.
-- Preparing yourself.
-- Opening the log.
-- Transfer of food, brood and bees.
-- Final steps.
Transferring a large nest into two boxes:
-- Transferring the food, brood and bees.
-- Final steps.
Splitting a hive:
-- Best time to split a hive.
-- Hive selection.
-- Preparing the site.
-- Preparing the materials.
-- Preparing the new hive box.
-- The splitting technique.
-- Care of hives after splitting.
Troubleshooting guide.

---
KEY FEATURES:
Format: eBook (PDF).
File size: 3.8 MB
Edition: Two (2017)
Print length: 23 pages (including cover & contents).
Page size: 30 x 21 cm (A4) -- easy to print on a home printer.
Illustrations: All photographs in full colour.
ISBN: 978-1876307295
---
REVIEWER COMMENTS:
"Complete do it yourself guide on boxing and splitting hives. Easy to follow, useful information with step by step instructions. Visually appealing. Perfect for beginners or those wanting more information on boxing and splitting hives."
-- Jennie Therrien, Hervey Bay, QLD
10 August 2019
"Simple, easy to follow instructions, even for us novice bee keepers. This book should give anyone the confidence needed to perform the task."
-- Margot & Warwick Darlow, Maryborough, QLD
13 August 2019
Click here for more reviewer comments.
---
ABOUT THE AUTHORS:
Anne Dollin (Australian Native Bee Research Centre & Aussie Bee) has been researching native bees since 1979. She is a specialist in the species and behaviour of Australian stingless bees.
Russell and Janine Zabel (Zabel Beekeeping Australia) are specialists in beekeeping with Australian stingless native bees, with over 30 years of experience. They keep many hundreds of stingless bee colonies.
---
Important Note:
This eBook deals with the stingless native bees, which do NOT occur in VIC, TAS, SA, the ACT, the southern half of WA or in the colder areas of NSW.
---
All eBook orders support the native bee research work of Aussie Bee.
Much appreciated!
---



OR Email us to buy offline with Bank Transfer
($10 processing fee for offline orders)

Need help with your ebook purchase?
• Visit our ebook FAQ page.
• Take a 'Guided Tour' of the Aussie Bee Shop.