NESTS OF AUSTRALIAN STINGLESS BEES
(Third Edition):
a downloadable eBook

Aussie Bee > Aussie Bee eBook Shop > Nests of Australian Stingless Bees eBook



OR Email us to buy offline with Bank Transfer
($10 processing fee for offline orders)

---
Nests of Australian Stingless Bees
by Anne Dollin
(Aussie Bee)

Price: $6.00
3rd Edition (2017)
Find out all about the intricate nests built by our Australian stingless native bees from the nest entrance right through to the fascinating brood, including recent discoveries about the qualities of Australian stingless bee honey.
"Interesting, informative and well illustrated. I had to read twice as there is a lot of information in this little book and lots to learn... "
-- Melanie Coelho, Gold Coast, QLD.
Two sample pages from this ebook...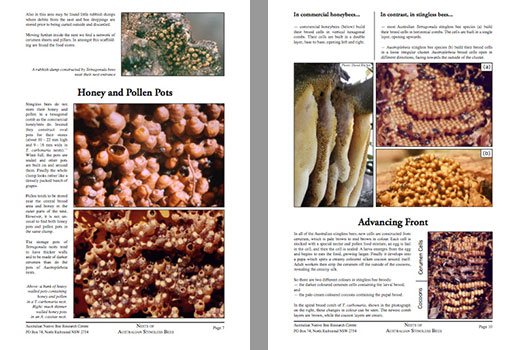 ---
---
TOPICS INCLUDE:
Strange nest sites overseas.
Natural and man made nest sites in Australia.
Materials used for building the nest.
Nest entrances and tunnels.
The nest cavity.
Batumen plates.
Internal entrance.
Honey and pollen pots.
Qualities of stingless bee honey.
Involucrum.
Brood structure comparisons.
The cycle of the advancing front.
Brood structures built by different species.
Effect of cavity shape on brood structure.
Observing a nest of stingless bees.
Glossary.

---
KEY FEATURES:
Format: eBook (PDF).
File size: 2.9 MB
Edition: Three (2017)
Print length: 17 pages (including cover & contents).
Page size: 30 x 21 cm (A4) -- easy to print on a home printer.
Illustrations: All photographs in full colour.
ISBN: 978-1876307257
---
REVIEWER COMMENTS:
"Take a journey through the nests of our native stingless bees, past the entombed insect intruder, the honeypots and brood, in this fascinating ebook. The descriptions and photographs build a wonderful idea of how these clever little bees build and protect their homes, and rear their young."
-- Monica Koch, Walloon, QLD
11 August 2019
"Dark colours; Complex structures; Shiny scales of wax; Balls of resin; Protected entrances; Cavity plates; Internal tunnels; Storage pots; Basket weaving; Advancing front. Description of life in a Medieval Fortress? Actually these are Dr Anne Dollin's informative words educating us about the "Nests of Australian Stingless Bees"."
-- Jeni Mole, Capalaba, QLD
11 August 2019
Click here for more reviewer comments.
---
ABOUT THE AUTHOR:
Anne Dollin (Australian Native Bee Research Centre & Aussie Bee) and her husband, Les, have studied the nests of every species of Australian stingless bee. Their field studies, in all regions where stingless bees are found, have extended over 35 years.
---
Important Note:
This eBook deals with the stingless native bees, which do NOT occur in VIC, TAS, SA, the ACT, the southern half of WA or in the colder areas of NSW.
---
---
All eBook orders support the native bee research work of Aussie Bee.
Much appreciated!
---



OR Email us to buy offline with Bank Transfer
($10 processing fee for offline orders)

Need help with your ebook purchase?
• Visit our ebook FAQ page.
• Take a 'Guided Tour' of the Aussie Bee Shop.