KEEPING AUSTRALIAN STINGLESS BEES IN A LOG OR BOX
(Third Edition):
a downloadable eBook

Aussie Bee > Aussie Bee eBook Shop > Keeping Australian Stingless Bees in a Log or Box eBook



OR Email us to buy offline with Bank Transfer
($10 processing fee for offline orders)

---
Keeping Australian Stingless Bees in a Log or Box
by Anne Dollin (Aussie Bee)
& Tim Heard (Sugarbag Bees)

Price: $8.00
3rd Edition (2017)
Learn how to obtain and care for a log nest or boxed hive of our Australian stingless bees, including the effects of pesticides on stingless bees, and pests and parasites of stingless bees!
"So much great information in this book. From different hive designs to eduction and splitting methods and how to box a colony of bees, identifying pests and how to move bees, this book is a good read!"
-- Crystal White, Stingless Bee Buzz, Nimbin, NSW.
Two sample pages from this ebook...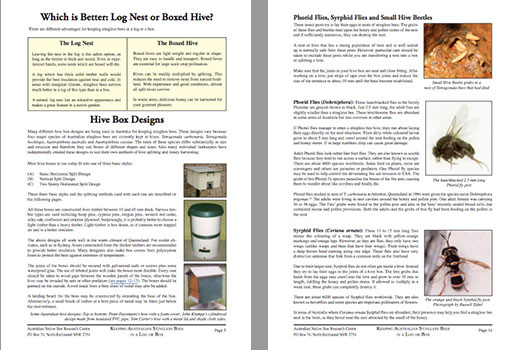 ---
---
TOPICS INCLUDE:
History of stingless beekeeping.
Our Australian pioneers of stingless beekeeping.
How to obtain Australian stingless bees.
-- including a detailed state by state guide to the best species.
How to set up a nest in its original log.
Which is better: log nests or boxed hives?
Major hive box designs.
The basic horizontal split box design or 'OATH'.
Vertical split box design.
Two story horizontal split box design.
Introduction to boxing a nest.
Caring for a boxed hive.
How to move your stingless bees.
Swarming.
Hazards to avoid:
-- Pesticides.
-- Cadagi tree resin.
-- Ants.
-- Spiders.
-- Braconid wasps.
-- Syrphid flies.
-- Phorid flies.
-- Small Hive Beetles.
Introduction to propagating a hive by eduction or splitting.
Simple honey harvesting.

---
KEY FEATURES:
Format: eBook (PDF).
File size: 2.5 MB
Edition: Three (2017)
Print length: 22 pages (including cover & contents).
Page size: 30 x 21 cm (A4) -- easy to print on a home printer.
Illustrations: All photographs in full colour.
ISBN: 978-1876307288
---
REVIEWER COMMENTS:
"An amazing guide discussing the various advantages of keeping Stingless Bees in a log or a box. We owe deep gratitude to the early pioneers Australian Stingless Bee community. Their foundation work provided today's enthusiast with valuable information to absorb build upon."
-- Jeni Mole, Capalaba, QLD
11 August 2019
"Discover which native bees you can keep in your area, and how to secure a nest within a cut log to improve their chances of survival. In this fascinating ebook, packed full of essential information for the successful keeping of stingless native bees, learn about pests to watch out for, how to propagate your hive, and the posiibility of harvesting native bee honey."
-- Monica Koch, Walloon, QLD
11 August 2019
Click here for more reviewer comments.
---
ABOUT THE AUTHORS:
Anne Dollin (Australian Native Bee Research Centre & Aussie Bee) has been researching stingless bees since 1979. She and her husband, Les, have kept a wide range of Australian stingless bee species in both logs and hive boxes.
Tim Heard (Sugarbag Bees) is an ex-CSIRO scientist who has been keeping Australian stingless bees since 1985. Tim now keeps over 400 stingless bee hives and is a specialist in hive splitting and honey harvesting techniques.
---
Important Note:
This eBook deals with the stingless native bees, which do NOT occur in VIC, TAS, SA, the ACT, the southern half of WA or in the colder areas of NSW.
---
All eBook orders support the native bee research work of Aussie Bee.
Much appreciated!
---



OR Email us to buy offline with Bank Transfer
($10 processing fee for offline orders)

Need help with your ebook purchase?
• Visit our ebook FAQ page.
• Take a 'Guided Tour' of the Aussie Bee Shop.