BEHAVIOUR OF AUSTRALIAN STINGLESS BEES
(Third Edition):
a downloadable eBook

Aussie Bee > Aussie Bee eBook Shop > Behaviour of Australian Stingless Bees eBook



OR Email us to buy offline with Bank Transfer
($10 processing fee for offline orders)

---
Behaviour of Australian Stingless Bees
by Anne Dollin
(Aussie Bee)

Price: $6.00
3rd Edition (2017)
Learn all about the unique behaviour of our Australian stingless bees both within the nest and out amongst the flowers, including the latest scientific findings on egg laying, swarming, foraging and more!
"Comprehensive, in depth, easy to read guide on the inner workings of the behavior of Australian stingless bees..."
-- Jennie Therrien, Hervey Bay, QLD.
Two sample pages from this ebook...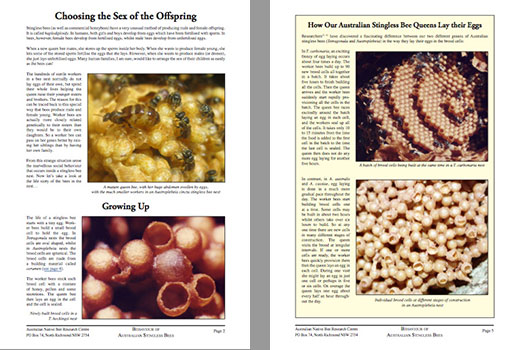 ---
---
TOPICS INCLUDE:
The three castes of stingless bees.
Choosing the sex of the offspring.
Life cycle: the egg, larva, pupa and adult.
Nest construction materials.
Building and provisioning brood cells.
Egg laying in Tetragonula (previously called Trigona) and Austroplebeia species.
Air conditioning the nest.
Waste disposal in the nest.
Nest defence.
Fighting swarms.
Foraging for nectar and pollen.
Pheromone scent trails.
Converting nectar to honey.
Special adaptations for pollen collecting.
Collecting resin.
Building a new nest.
Early life of the virgin queen bees.
Mating swarms.
Glossary.

---
KEY FEATURES:
Format: eBook (PDF).
File size: 2.3 MB
Edition: Three (2017)
Print length: 17 pages (including cover & contents).
Page size: 30 x 21 cm (A4) -- easy to print on a home printer.
Illustrations: All photographs in full colour.
ISBN: 978-1876307264
---
REVIEWER COMMENTS:
"A private look into the lives of australian stingless bees. Fascinating, even as a keeper of logs and hives Ive learnt so much and still so much to learn."
-- Melanie Coelho, Gold Coast, QLD
8 August 2019
"Wonderful and detailed insight into the daily lives and behaviours of stingless bees. Highly informative and beautifully photographed, this text is presented in an easy to read but comprehensive format. A must for anyone interested in learning more about Australian native bees."
-- Peter & Penelope Wrench, Kinkuna, QLD
11 August 2019
Click here for more reviewer comments.
---
ABOUT THE AUTHOR:
Anne Dollin (Australian Native Bee Research Centre & Aussie Bee) and her husband, Les, are specialists in stingless bee behaviour, having studied all species of stingless bees in Australia during their field studies stretching over 35 years.
---
Important Note:
This eBook deals with the stingless native bees, which do NOT occur in VIC, TAS, SA, the ACT, the southern half of WA or in the colder areas of NSW.
---
All eBook orders support the native bee research work of Aussie Bee.
Much appreciated!
---



OR Email us to buy offline with Bank Transfer
($10 processing fee for offline orders)

Need help with your ebook purchase?
• Visit our ebook FAQ page.
• Take a 'Guided Tour' of the Aussie Bee Shop.