NATIVE BEES OF THE SYDNEY REGION:
a downloadable eBook

Aussie Bee > Aussie Bee eBook Shop > Native Bees of the Sydney Region -- a Field Guide eBook



OR Email us to buy offline with Bank Transfer
($10 processing fee for offline orders)

---
Native Bees of the Sydney Region
by Anne Dollin, Michael Batley, Martyn Robinson & Brian Faulkner.

Price: $12.00
3rd Edition (2017)
Learn to identify more than 30 of Sydney's colourful native bee species with Australia's first-ever native bee field guide, first published in 2000.
Native Bees of the Sydney Region: A Field Guide is a practical field guide designed to help wildlife enthusiasts, bushwalkers, gardeners, beekeepers and students to identify our dazzling native bees of the Sydney area. All photographs now in colour.
"Bee-lovers rejoice! Here at last is the help we've long needed, a field guide that's not only authoritative, but clearly written and beautifully illustrated."
-- Densey Clyne, Naturalist and Author.
Sample pages from this ebook...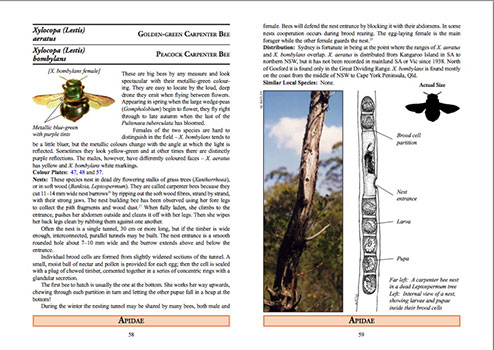 ---
---
ABOUT THIS FIELD GUIDE:
Winner of the Whitley Award from the Royal Zoological Society of NSW: Best Field Guide of 2001.
Great for field use or for the armchair enthusiast!
-- Describes 31 of the most easily-recognised Sydney species.
-- Includes over 20 species also found in QLD and VIC.
-- Foreword by environmentalist Eric Rolls.
-- Comprehensive section on garden plants loved by native bees.
-- Designs for artificial nests.
-- Pronunciation guide.
-- Glossary and index.
So Easy to Use!
Each Species Description page features:
-- Scientific Name.
-- Common Name.
-- Description of Bee.
-- Nesting Habits.
-- Silhouette showing Actual Size of each Bee.
Many pages also feature:
-- Labelled Photograph of each Bee.
-- Photograph showing Bee Behaviour & Nests.

---
KEY FEATURES:
Format: eBook (PDF).
File size: 3.5 MB
Edition: Three (2017)
Print length: 84 pages (incl. cover & contents).
Page size: 21 x 15 cm (A5) -- but formatted to show two pages on each A4 sheet, for easy printing on a home printer.
Illustrations: All photographs in full colour.
ISBN: 978-1876307233
---
REVIEWER COMMENTS:
"An excellent glimpse into the private lives of our fascinating native bees. Once you've read it, you will never again confuse a teddy bear bee with a gold-tipped leafcutter or a neon cuckoo bee."
-- John Dengate, Media Naturalist
"An excellent, much needed field guide which will fill a gap in the availability of information for amateur naturalists and educators."
-- Tracey Armstrong, Mount Annan Botanic Gardens
Click here for more reviewer comments.
---
ABOUT THE AUTHORS:
Anne Dollin, Australian Native Bee Research Centre, has been studying Australian native bees since 1979. She has revised the species names of all of Australia's stingless social bees and has built Aussie Bee, a public education website on native bees.
Michael Batley, a former lecturer at Macquarie University, has a keen interest in natural history and Australian native bees. He has published revision papers on the Trichocolletes and Amegilla species and is cataloguing the bee collection of the Australian Museum.
Martyn Robinson, now retired from the Australian Museum, has published and illustrated many scientific papers, articles and books on Australian animals. His book, A Field Guide to Frogs, won the Whitley Award of the Royal Zoological Society of NSW.
Brian Faulkner has researched the pollination biology of bumble bees at the University of Exeter, UK. He is currently a freelance journalist in horticulture and entomology, with major articles published in Australian Horticulture.
---
All eBook orders support the native bee research work of Aussie Bee.
Much appreciated!
---



OR Email us to buy offline with Bank Transfer
($10 processing fee for offline orders)

Need help with your ebook purchase?
• Visit our ebook FAQ page.
• Take a 'Guided Tour' of the Aussie Bee Shop.