NATIVE BEE SEMINARS, WORKSHOPS AND SPECIAL EVENTS

Aussie Bee > Seminars and workshops
Like to see some Australian native bees?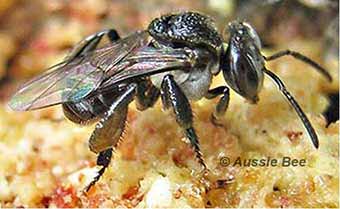 QUEENSLAND
WORKSHOPS ON STINGLESS BEEKEEPING
BY TIM HEARD AND/OR TOBIAS SMITH
More details: https://sugarbag.net/events
Generally the workshops are a mix of a photographic slideshow showing the biology of the bees with a practical session on keeping them. Tim demonstrates how to split hives and extract honey, and use the bees for pollinating your garden. Attendance price varies. Contact the organisers directly for details and to register.
Mudgeeraba, Gold Coast, Queensland
Sunday 12 May 2019, 9am – 12pm
[note - date changed from 11 May]
Presenter Dr Tobias Smith.
Learn about the stunning diversity of Australia's native bees and their role in the environment. Learn how to keep stingless bees in a hive, propagate them and extract honey.
Ages 15 and over. Bookings required.
Book here:
https://www.eventbrite.com.au/e/naturallygc-native-stingless-bees-tickets-46096792748
Ashgrove, Queensland
Friday 17 May 2019, 9am to 3pm
Ashgrove Library, 87 Amarina Avenue, Ashgrove
During this full day workshop, Dr Tobias Smith will teach you the basics of how to become a stingless beekeeper.
Free but bookings required.
Phone Ashgrove Library on 07 3407 1940 to reserve your place.
West End, Queensland
25 May 2019, 3pm to 5pm
Jane Street Community Garden, 103 Jane St, West End.
Native Bee Hive Workshop with Tim Heard.Learn the basics of keeping and propagating native stingless bees in hives.
$30 or $25 for Garden Members and students.
Purchase your tickets here [sold out but wait list available]: https://www.trybooking.com/book/event?e.....
Eatons Hill, Queensland
Saturday 7 September 2019, 9.30am to 3.30pm
Yuraba Conference Centre, 240 Church Road, Eatons Hill
Dr Tobias Smith presenting Tim Heard's stingless bees workshop
Cost - $40/person and includes morning tea, lunch and honey tasting in the afternoon
Book your place by contacting Kim on kimp@kumbartcho.org.au or phone 07 3325 3492
Postmans Ridge, Queensland
Sunday 8 September 2019, 1.30pm to 4.30pm.
88 Richards Road, Postmans Ridge
Hosted by Debbie Bassingthwaighte, Optimise Learning.
In this 3-hour practical workshop, entomologist Dr Tim Heard will teach the basics of how to become a native bee keeper.
$30 per person, including light afternoon tea [or opt for the Workshop + Book package to get a discount copy of Tim's book].
Places are limited and bookings are essential.
Book here: https://www.eventbrite.com.au/e/native-bee-keeping-workshop-with-dr-tim-heard-tickets-60702007338
See also Tim's upcoming NSW workshops listed below!
---
NEW SOUTH WALES
WORKSHOPS ON STINGLESS BEEKEEPING
BY TIM HEARD AND/OR TOBIAS SMITH
More details: https://sugarbag.net/events
Heathcote, New South Wales
Tuesday 12 November 2019, 10am to 1pm
Sydney Wildflower Nursery, 9 Veno Street, Heathcote.
Tim Heard explains everything about the lifecycle of stingless bees and how to care for a hive. Watch while a hive is split and try the delicious honey.
Cost: $50
Book at: https://www.trybooking.com/499196
**********************************
THE ART & SCIENCE OF BEEKEEPING
Two-day conference on honeybees and native bees
Richmond, New South Wales
7-9 June 2019
Western Sydney University Hawkesbury Campus.
Presented by the Amateur Beekeepers Association of NSW.
Speakers on native bees include Tim Heard, Katja Hogendoorn, Megan Halcroft, Mark Hall, Amy Gilpin and Amelie Vanderstock.
Topics range from art and photography to the latest scientific research.
Tickets are available to the public at $120 for the whole weekend, including morning and afternoon teas and lunches.
For more details and to book tickets, visit: https://aba2019.beekeepers.asn.au/en/
**********************************
COURSES AT ACE COMMUNITY COLLEGE
BY FRANK ADCOCK
Frank runs courses through ACE College at Lismore and Casino, New South Wales.
Benefits of Keeping Native Bees
Lismore ACE Community College
14 September 2019, 9.30-3.30pm, OR
16 November 2019, 9.30-3.30pm.
Cost: $80
More details: https://www.acecolleges.edu.au/course-category/leisure-and-lifestyle/relaxation/benefits-of-keeping-native-bees-field-trip/
---
WESTERN AUSTRALIA
Bentley, Western Australia
Monday 20 May 2019.
Curtin University, Kent St, Bentley WA
Green Garden Cube, Atkinson Forum.
Session 1: 12.30 to 1.15pm;
Session 2: 1.30 to 2.15pm.
To celebrate World Bee Day, Kit Prendergast and Curtin Library are holding two workshops on how to make a Bee Hotel.
Event is free and materials are included, but registration is required at: https://www.eventbrite.com.au/e/curtin-make-your-own-bee-hotel-tickets-60106238377