NATIVE BEE SEMINARS, WORKSHOPS AND SPECIAL EVENTS

Aussie Bee > Seminars and workshops
Like to see some Australian native bees?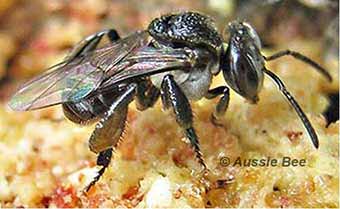 AUSTRALIAN POLLINATOR WEEK IS ON AGAIN
-- BEE INVOLVED!
More details: www.australianpollinatorweek.org.au
Enjoy exciting online and in-person events Australia-wide, in Australian Pollinator Week: 11 to 19 November 2023!
Nine exciting days of native bee events, citizen science opportunities and challenges begin next Saturday 11 November 2023! Back for its ninth year, Australian Pollinator Week celebrates our unique insect pollinators and brings together community members of all ages to learn, laugh and contribute.
Attend workshops and online events Australia-wide, host a Pollinator Picnic, and take part in the annual Australian Pollinator Count. You might even discover a new species in your backyard!
For full details of events in your area, visit: www.australianpollinatorweek.org.au
---
AUSTRALIAN POLLINATOR COUNT
CITIZEN SCIENCE
Bee a Citizen Scientist and collect important data about Australia's pollinating insects. It only takes 10 minutes and can be done anywhere in Australia from 11 to 19 November 2023.
This is a simple and fun project, ideal for families, schools and community groups.
For full details about how to take part, visit: www.australianpollinatorweek.org.au/count/
And to download free fact sheets and activities on pollination, visit: australianpollinatorweek.org.au/about/resources/
---
WORKSHOPS AND SEMINARS ON NATIVE BEES

You can now learn about native bees at a wide range of workshops and events around Australia. For some examples, visit the following webpages.
The Australian Native Bee Association events page: anba.org.au/events
'Sugarbag Bees' workshops by Tim Heard and colleagues: sugarbag.net/events
Stingless bee workshops by Russell Zabel: zabel.com.au/australian-stingless-native-bees/....
'A Green Soul Native Bees' workshops by Ian Driver: agreensoul.com.au/events