Teddy Bear Bee - Amegilla (Asaropoda)
Aussie Bee Homepage > Native Bee Photo Gallery > Teddy Bear Bees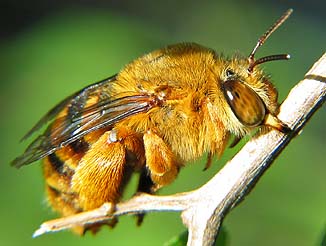 Do you have a real teddy bear's picnic in your garden? Protect these charming, chubby bees!
Teddy bear bees are solitary bees. Each female builds an individual nest for herself in a small burrow in the soil. However, quite a few teddy bear bees may build nests close together in a sheltered location such as in an eroded creek bank or underneath a house.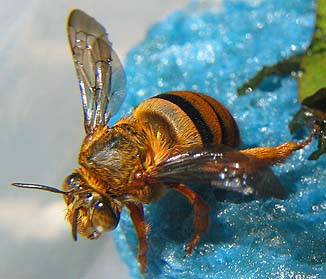 A teddy bear bee taking off after sipping honey from a feeder sponge. As these bees age, the hair on the top of their thorax becomes worn, leaving a black bald spot.
Full article on Teddy Bear Bees

Search Aussie Bee Website:




Author: Anne Dollin
(See Anne Dollin's Google+ profile)



© 1997-2018 Australian Native Bee Research Centre
PO Box 74, North Richmond NSW 2754, Australia