TEDDY BEAR BEES - (Amegilla (Asaropoda))

Aussie Bee > Native Bee Photo Gallery > Teddy Bear Bees
Do you have a real teddy bear's picnic in your garden? Protect these charming, chubby bees!
Above: a Teddybear Bee resting by hanging onto a stem with its jaws!
Teddy Bear Bees are solitary bees. Each female builds an individual nest for herself in a small burrow in the soil. However, quite a few Teddy Bear Bees may build nests close together in a sheltered location such as in an eroded creek bank or underneath a house.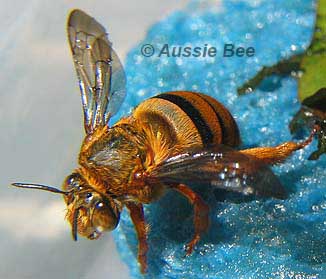 Above: a Teddy Bear Bee taking off after sipping honey from a feeder sponge. As these bees age, the hair on the top of their thorax becomes worn, leaving a black bald spot.
Teddy Bear Bees are about 7-15 mm long and belong to the family Apidae. They are found Australia-wide, except in Tasmania.
Native Bee Id Tips.
Plant a Bee Friendly Garden
More Galleries of Native Bee Photos.