HOW TO DOWNLOAD YOUR AUSSIE BEE eBOOKS

Aussie Bee > Aussie Bee eBook Shop > eBook Download Help
To download your Aussie Bee eBooks and/or Donation Certificate, please follow these steps:
STEP 1. Check your emails at the address that you used when you made your order.
(If you paid by PayPal, this will be your PayPal login email address.)
STEP 2. 'SendOwl' is the professional, secure ecommerce service that delivers our Aussie Bee eBooks.
Find an email from 'Aussie Bee <noreply@sendowl.com>' with the following subject line:
Your Aussie Bee Order [10 digit number]
This email should be in your email box by now. However, occasionally it might take a few minutes to arrive there. Don't forget to look in your 'Bulk', 'Junk' or 'Spam' folder if you have a spam filter activated on your account, in case it has been filed there.
STEP 3. Open that email and click on the SendOwl link included in that email: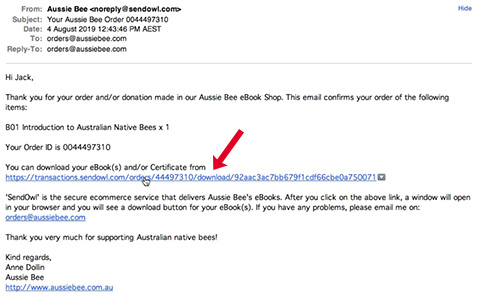 Your eBooks will be prepared by SendOwl, then a 'File Download' window will open in your browser. This 'File Download' window will contain a white download button and/or a download link for each eBook that you have ordered: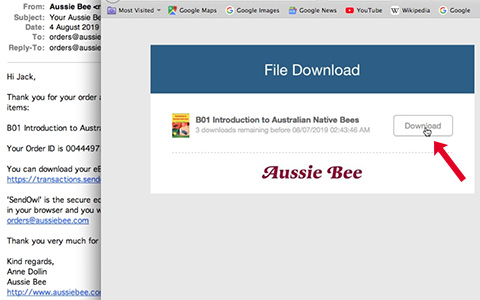 STEP 4. Click on the first download button or link, then that eBook and/or Certificate will download to your computer or mobile device. Click on the remaining download buttons or links (if any), one by one, to download any other eBooks that you have ordered.
If you need to reopen your File Download window at any stage, return to your email and click on the SendOwl link again.
You will be able to download each eBook up to five times, so that you can store copies on your phone, tablet and computer. (If you exceed a download limit and get an error message, simply close the window and return to your email. Click on the SendOwl link in your email again to reopen the File Download window and continue downloading your other eBooks.)
You will have 72 hours (3 days) to download your ebook(s), and then the download link will expire.
If, for any reason, you are unable to download your ebook(s), please send us an email at: orders@aussiebee.com and we will help you.
More tips for iPhone and iPad users.
Aussie Bee eBook FAQ page.
Aussie Bee eBook Shop tour.