BEETOPIA: A FANTASTIC 'BEE HOTEL' DISPLAY AT SYDNEY'S VIVID FESTIVAL

Aussie Bee > 'Beetopia' at the Vivid Festival in Sydney
Crowds were delighted to see 'Beetopia', a glowing larger-than-life model of a Bee Hotel with Australian native bees at Sydney's 2019 Vivid Festival. The artists, Pink Cactus, created a giant Bee Hotel, brightly illuminated from within, and swarming with colourful and buzzing native bees!
Above: one of the many children captivated by Pink Cactus' Beetopia display in the Sydney Royal Botanic Gardens for Vivid 2019. Photos in this article by John Wagner.
Above: a closer view of the three types of Australian native bees depicted on this spectacular display.
In the type of Bee Hotel shown in this model, bamboo canes and drilled timber blocks provide nest holes these solitary bees. This style of Bee Hotel suits Leafcutter Bees, Resin Bees and Masked Bees. You can find out how to make a timber Bee Hotel for these kinds of native bees in this free PDF article: https://www.aussiebee.com.au/aussiebeeonline008.pdf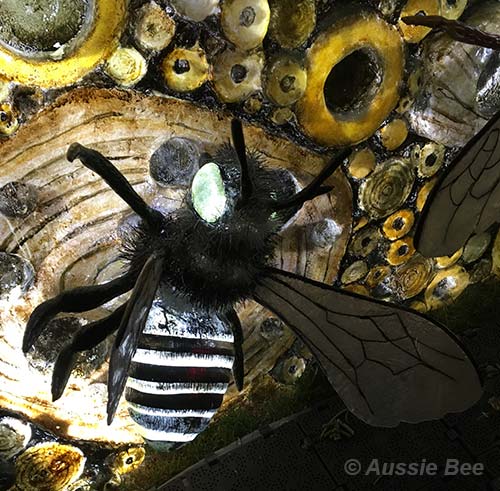 Above: Leafcutter Bees, like this one on the Beetopia model, like to nest in bamboo canes or drilled timber blocks -- see link above for details
Gorgeous Blue Banded Bees were also featured in this model. However, actually, Blue Banded Bees need blocks made from clay soils, rather than timber, for their nests. You can find out how to make a clay block Bee Hotel for Blue Banded Bees in this free PDF article: https://www.aussiebee.com.au/aussiebeeonline026.pdf
Above: one of the fantastic Blue Banded Bees shown in the Beetopia model -- although these bees actually like to nest in clay blocks, see details above.
This popular colourful display attracted immense interest from the hundreds of thousands of visitors to Sydney's Vivid Festival. It introduced numerous people to our beautiful Australian native bees and we hope it inspired many to make a Bee Hotel for their own local native bees.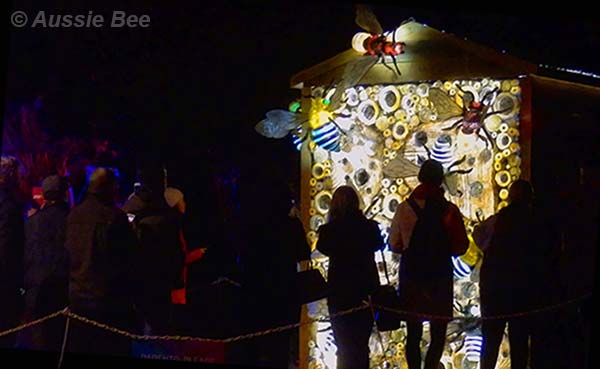 Above: children and adults alike love this crowd-pleasing display, posing for countless photos and selfies. The bees actually buzz and vibrate, adding to the realistic effect!
This fabulous Bee Hotel model is situated in the Royal Botanic Gardens and will be on display until Saturday 15 June 2019.
Read Aussie Bee's Complete Guide to Bee Hotels
See our video of the Beetopia display