RESIN BEES (Megachile)

Aussie Bee > Native Bee Photo Gallery > Resin Bees
Resin Bees get their name because they build their residences out of resin. Ranging in size from about 8 to 14 mm, and coloured red, orange or black, these attractive bees may be in your backyard!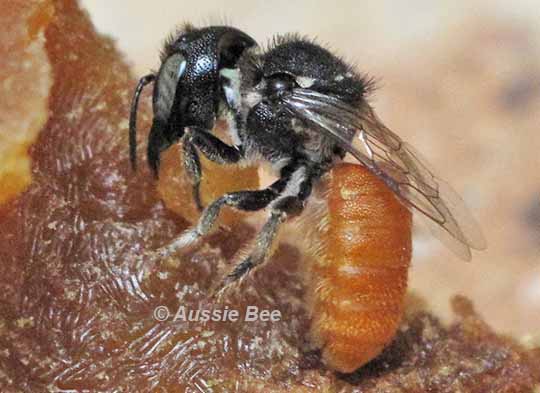 Above: we put out a small amount of resinous nest material that we collected from one of our stingless bee hives. This little Resin Bee enthusiastically collected tiny balls of this material for her nest.
Australian Resin Bees are now in genus Megachile, but used to be classified in genus Chalicodoma. They belong to family Megachilidae and are found Australia-wide.
Most Resin Bees build nests in narrow holes in timber but they may also use narrow crevices in other materials. You can provide nest sites for native Resin Bees by making a simple Bee Hotel from a drilled block of timber. This Resin Bee is sealing her nest entrance in a Bee Hotel: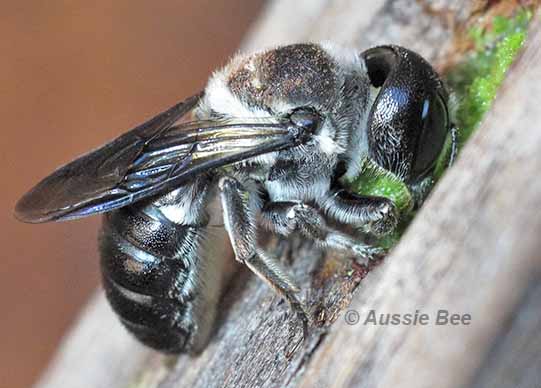 Above: some Resin Bees use pure resin to seal their nest entrances. This bee is mixing chewed leaf material into her resin seal.
---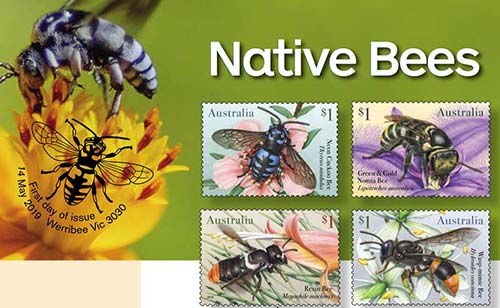 Above: These four beautiful postage stamps featuring Australian native bees were issued by Australia Post in May 2019! The lower left stamp shows one of our Resin Bees. For more details, see the Stamp Bulletin, issue 359 (pages 6-8).
---
Aussie Bee Guide to Bee Hotels.
Learn how to make a Timber Bee Hotel for Resin Bees.
Other Galleries of Native Bee Photos.