Above:notice the leafcutter's characteristic thick pad of bristles under the abdomen.
This leafcutter bee is snipping a piece from a rose leaf.
This excellent photograph was contributed by Shirley Woods.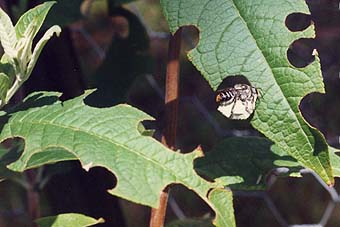 Whilst rose leaves are one of the leafcutter's favourites, other soft leaves that they like to use include Buddleja (above) and wisteria.
The leafcutter bee always cuts extremely neat circles and ovals, unlike caterpillars which leave irregular holes in leaves.

Search Aussie Bee Website:




Author: Anne Dollin
(See Anne Dollin's Google+ profile)



© 1997-2018 Australian Native Bee Research Centre
PO Box 74, North Richmond NSW 2754, Australia