BUNDLE OF AUSSIE BEE INFORMATION eBOOKS:
download now!

Aussie Bee > Aussie Bee eBook Shop > Bundle of Aussie Bee Information eBooks



OR Email us to buy offline with Bank Transfer
($10 processing fee for offline orders)

---
Bundle of ALL SIX Information eBooks
Save 40% on Purchase Price!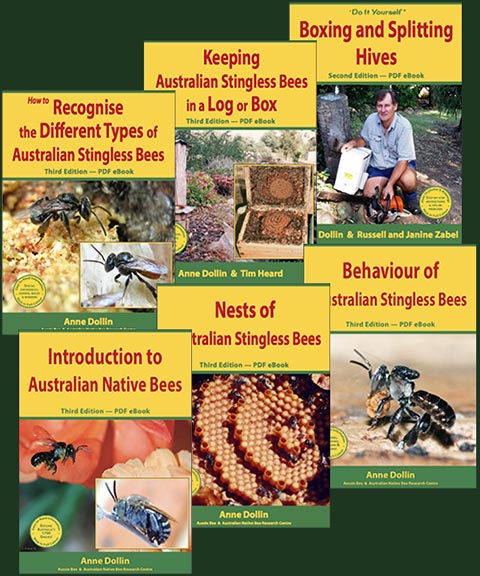 Pay only $25.00!
(Normal Price: $42.00)

---
"Wow, these are great looking books, with so much awesome info. ... I've done some research over the last 2 years, but you've included loads of info on topics that I didn't know I needed to know lol."
-- Stitt Man, Newcastle, NSW.
---
INCLUDED IN THIS BUNDLE:
Introduction to Australian Native Bees (3rd ed.)
Explore Australia's 1700 native bee species: Stingless Bees, Blue Banded Bees, Leafcutters and more, & how to help them.
Nests of Australian Stingless Bees (3rd ed.)
All about the intricate nests built by native stingless bees: brood, involucrum, honey, pollen, entrance tunnels, and more.
Behaviour of Australian Stingless Bees (3rd ed.)
The unique behaviour of our native stingless bees: life cycle, brood construction, defence, foraging, swarming and more.
How to Recognise the Different Types of Australian Stingless Bees (3rd ed.)
A complete identification guide to all of Australia's stingless bee species -- charts and diagrams, in every-day English.
Keeping Australian Stingless Bees in a Log or Box (3rd ed.)
How to care for Australian stingless native bees, in a log or a hive box, including tips on controlling pests and diseases.
Boxing and Splitting Hives (2nd ed.)
A step-by-step guide to the essential techniques of boxing and splitting hives of Australian stingless bees.

---
KEY FEATURES:
Format: Bundle of six eBooks (PDF).
File size: The six individual eBooks, which you will download individually, range from 2.3 to 5.3 MB. The combined file size of this bundle is 19.3 MB.
Publication date: 2017
Print length: 136 pages (including covers & contents).
Page size: 30 x 21 cm (A4) -- easy to print on a home printer.
Illustrations: All photographs in full colour.
---
REVIEWER COMMENTS:
"You have done a wonderful job enveloping years of knowledge and study into easy to understand, well illustrated and very informative books packed with so much detail :) "
-- Melanie Coelho, Gold Coast, QLD
8 August 2019
"I have really enjoyed reading through your ebooks and appreciate the many many years of research, travel, time and study you and Les have done to contribute the learnings around Stingless bees in Australia. I'm so intrigued at the history and little stories about your journeys - like your honeymoon Bee expedition!"
-- Crystal White, Stingless Bee Buzz, Nimbin, NSW
10 August 2019
Click here for more reviewer comments.
---
Important Note:
The final five eBooks in this bundle deal with the stingless native bees, which do NOT occur in VIC, TAS, SA, the ACT, the southern half of WA or in the colder areas of NSW.
---
All eBook orders support the native bee research work of Aussie Bee.
Much appreciated!
---



OR Email us to buy offline with Bank Transfer
($10 processing fee for offline orders)

Need help with your ebook purchase?
• Visit our ebook FAQ page.
• Take a 'Guided Tour' of the Aussie Bee Shop.