Home

Aussie Bee Online
Welcome
New Articles

About Native Bees
What are Native Bees?
Bee Photo Gallery
Bees in Your Area
Common Questions
Rescuing Native Bees
Bees in Houses - Advice
Exotic Bumblebees
Stingless Native Bees
What are Stingless Bees?
Buying Stingless Bees
Keeping Stingless Bees
Honey Production
Crop Pollination
Study Native Bees
Field Guide
Information Booklets
New Stingless Bees Book
Aussie Bee Bulletin
Native Bee Video
Seminars
Links
Support Native Bees
Aussie Bee Shop
Order Form
Who We Are
Donations
Privacy Policy
Free Newsletter
Website Survey
xx

Aussie Bee Online brings you interesting articles and colour photographs, full of news and information about the world of Australian native bees.

These are FREE OF CHARGE and are delivered online to your computer by the Internet.


What's in Aussie Bee Online?

Read all about:

the latest techniques in stingless beekeeping;

crop pollination with native bees;

fascinating native bee species;

proposals to introduce European bumble bees;

university research on native bees; and

current projects and surveys of the ANBRC.

The articles are lively and easy to read, continuing the style of the highly successful Aussie Bee bulletin. However , as a bonus, the photographs in Aussie Bee Online are in full colour!

The discoveries of leading Australian native bee specialists are reported in Aussie Bee Online, including Dr Katja Hogendoorn (University of Adelaide), Melissa Bell (University of Western Sydney), Mark Greco (University of Western Sydney), researchers in Dr Ben Oldroyd's Bee Lab at the University of Sydney, and Anne and Les Dollin (ANBRC). New articles are added periodically as the information becomes available.



Dr Anne Dollin of the Australian Native Bee Research Centre taking photographs of blue banded bees visiting tomato flowers inside a glasshouse at the University of Western Sydney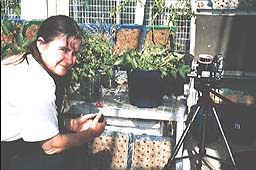 Downloading Aussie Bee Online Articles

For full instructions on how to do this, click here.

Each article is offered in the normal webpage format (HTML format) and, in addition, as a PDF file.

PDF files provide a very compact, attractive layout similar to Aussie Bee bulletin. The photographs in the PDF files are also provided at much higher resolution than those in the HTML versions. PDF files can be read by both Windows and Macintosh computers. Most of our PDF files are only 200 to 500K in size and are quick to download. However, you will need a copy of Adobe Reader to read PDF files.



We have also provided an HTML version of each article in case you are in a situation where you cannot easily download a PDF file (such as if you are using a computer in a public library). You may also like to use the HTML version to take a quick look at each article before you download the PDF version.


Printing Out Aussie Bee Online Articles

We hope you will print out copies of these articles and keep them in a ring-backed binder. They will build up, year by year, into a substantial new addition to your native bee library. We have even provided a splendid, full colour cover page in PDF format to decorate the front of your binder.

You are welcome to print out as many copies as you wish of the Aussie Bee Online cover page and articles to share with your friends. You may also email them to friends or host them on other websites. However, the cover page and all articles must be kept in their full and unaltered version including ANBRC contact details.

To preview, download and print out the articles of Aussie Bee Online,