AUSSIE BEE WEBSITE SURVEY

Aussie Bee > Aussie Bee Website Survey
We apologise that our Aussie Bee Website Survey is presently closed, while we are working on a major upgrade of Aussie Bee website.
---
Interested in Australian stingless bees? Then take a look at...
-- Keeping Stingless Bees
-- Buying Stingless Bees
-- Info Booklets on Keeping Stingless Bees
Interested in identifying a native bee? Then take a look at...
-- Aussie Bee's ID Guide
-- Make a Bee-Friendly Garden
-- Build a Bee Hotel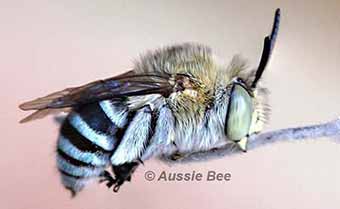 A Blue Banded Bee -- one of Australia's favourite native bee species!