Above: Erica Siegel captured this fantastic close up shot of a leafcutter bee in the process of snipping a piece from a leaf! Notice this bee's powerful mandible or jaw that the bee uses for cutting the leaf pieces.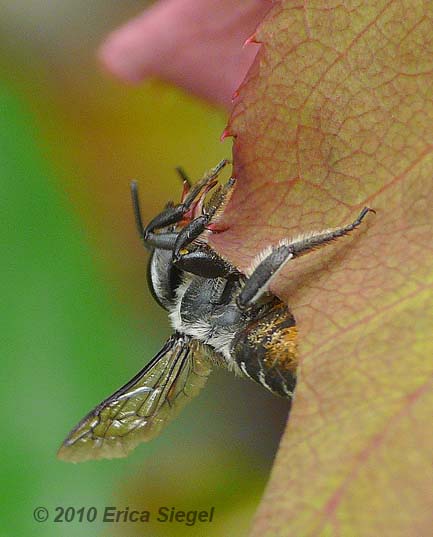 Above: Another beautiful shot by Erica Siegel of a leafcutter bee in action. Leafcutter bees use these leaf pieces to weave cells for their young inside their nest burrows.
Above: the characteristically uniform cuts made in soft leaves by leafcutter bees.
---
Above: leaf cutter bees grasp the leaf pieces with their legs to carry them back to their nests.
© 1997-2018 Australian Native Bee Research Centre
PO Box 74, North Richmond NSW 2754, Australia