Above: a stunning shot of a blue banded bee balancing on its jaws as it rests on a roost
Above: twenty four blue banded bees (Amegilla) jostling for the best roosting positions on some dry stems in the evening.
---
And 'Peter O' kindly contributed these fantastic photographs that he has taken of our blue banded bees: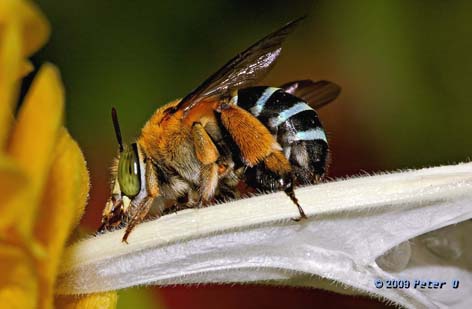 Above: a delightful photograph of a blue banded bee sipping some nectar from a flower.
Above: a blue banded bee (Amegilla) with her long tongue extended to search for nectar.
Search Aussie Bee Website:




© 1997-2018 Australian Native Bee Research Centre
PO Box 74, North Richmond NSW 2754, Australia