Above: a detailed photograph of these roosting blue banded bees. Notice how the bees vigorously wave their legs at one another as they jostle for position on their preferred stems.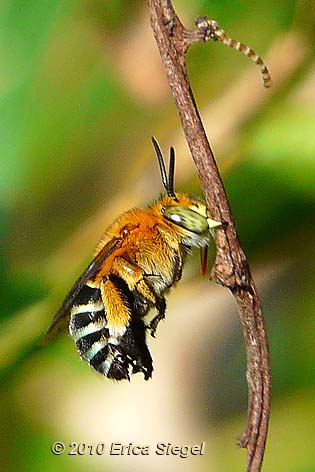 Above: a single blue banded bee resting on a stem. These bees amazingly seem quite comfortable supporting their entire weight on their jaws. Notice the intricate green patterns in the bee's eye.
Above: blue banded bees have patterns of yellow and black on their faces, as can be seen in this photograph.
Above: blue banded bees can carry large quantities of pollen packed on the bristles of their hind legs.
Above: blue banded bees have a very long flexible tongue that they can withdraw into a brown straw-like sheath for protection. In this photograph this bee is pointing this sheath towards these flowers in preparation for sipping some nectar with its long tongue.
© 1997-2018 Australian Native Bee Research Centre
PO Box 74, North Richmond NSW 2754, Australia