One of the most comprehensive reference books on stingless bees ever published!

Pot-Honey:
A legacy of stingless bees
Edited by Patricia Vit, Silvia RM Pedro and David Roubik. 2013.
A special focus of this important new book is the unique aromatic honey of the stingless bees, that they store in small resinous pots ('Pot-honey').
Other chapters detail the behaviour and nests of stingless bees around the world.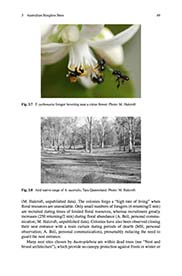 38 pages on Australian stingless bees by Megan Halcroft, Robert Spooner-Hart and Anne Dollin. This chapter presents a review of the species, castes, nests and behaviour of the Australian stingless bees, including new data by Megan Halcroft on how Austroplebeia stingless bees survive in arid outback areas.
Right: a page from the chapter on Australian stingless bees
A special chapter by Professor Charles Michener explains the new naming system he has proposed for the stingless bees world wide. In this system, our Australian Trigona bees have been given the genus name Tetragonula.
Foreword by Dr Tim Heard
Over 600 pages long with fascinating colour photographs, diagrams and charts
Written by 81 stingless bee specialists from 23 different countries
Read all about:
-- stingless bee species around the world: Australia, Mexico, Costa Rica, Argentina, Brazil, French Guiana, Venezuela, Africa and more
-- the wide range of nest structures seen in the stingless bees
-- special place of stingless bees in ancient cultures such as the Mayans in the Yucatan peninsula and the Indians in Brazil
-- how stingless bees communicate about food sources
-- plants used by stingless bees around the world for pollen, nectar and resin
PLUS OVER 200 PAGES ON:
-- qualities of stingless bee honey
-- medicinal uses of stingless bee honey
-- marketing and storage of stingless bee honey
Some people will say that this book is expensive -- and indeed it is. However, this book is virtually the only comprehensive, in-depth and up-to-date reference book on the fascinating stingless bees available today.
It is a massive undertaking -- a truly global view of a global bee and its unique honey, carefully researched by 81 experts and brought out by a highly respected publisher. It will become a standard textbook on the stingless bees and will be invaluable for scientists, environmentalists and students.