On Christmas Day 2001 a massive bushfire hit the Australian Native Bee Research Centre. The ridge on which the Australian Native Bee Research Centre stands in the Blue Mountains, NSW, had not been burnt for 30 years; so the force of the fire was quite devastating.




Huge flames leap up to engulf the trees
on the ridge where the ANBRC is located
All our gardens were burnt out and we lost half of a precious collection of stingless bee nests that we had had for over 10 years.

We lost the Aussie Bee greenhouse.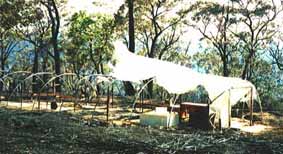 The remains of the 'Aussie Bee Winter Residence' greenhouse -
fortunately no nests were inside it at the time.

We also lost a caravan that we had fitted out as a native bee laboratory for our field work.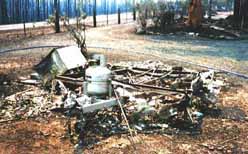 All that remains of the ANBRC caravan with its native bee laboratory
Fortunately, however, the house and shed were saved along with all our Aussie Bee stocks and photographs. The records and bee collections from our native bee research over the past 20 years were also saved.

We were away at a family Christmas lunch at the time. We arrived back at 3pm to find fire raging through the Australian Native Bee Research Centre with flames being swept along horizontally by the fierce winds. What a relief it was to see that the house and shed were still standing.

Within half an hour another fire front was threatening Les' sister's home on an adjacent property. Immense billows of smoke were followed by roaring flames 10 m high.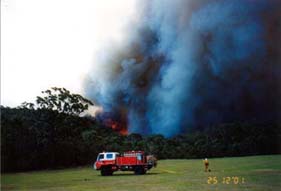 Billows of smoke approach Les' sister's house adjoining the ANBRC
Luckily a fire brigade hosed down the grass below her house, deflecting the main fire front through a tract of adjacent woodland. The fire roared on to burn down six houses on the next ridge to us.

We worked through the afternoon and night putting out fires that kept springing up at the Australian Native Bee Research Centre whilst also doing patrols for spot fires near Les' sister's and mother's houses. We dropped into bed exhausted at 3am.

It took many months of work in 2002 to clean up the debris and rebuild the bee gardens and fences. Nevertheless all our photographs, bee collections, microscopes and computers, Aussie Bee records and stocks were saved. So there are many reasons to be grateful.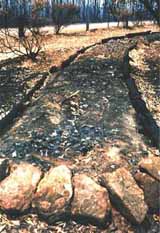 The extensive Abelia garden, now totally destroyed,
once supported thousands of native bees


Many Aussie Bee supporters assisted us with the huge reconstruction task by sending cash donations. These generous contributions were a great help with the many expenses involved in rebuilding the Centre's grounds. Some beekeepers even donated hives of bees to replace some of those that were lost, and one native plant specialist raised bee-friendly seedlings to help replant the gardens.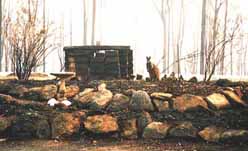 Wildlife returns to another ANBRC burnt-out garden


The Australian Native Bee Research Centre's gardens now have risen from the ashes. Replanted with a wide variety of plants that are particular native bee favorites, the new bee gardens will soon be better than ever! Read the full story in Article 5 of Aussie Bee Online.




Search Aussie Bee Website:




Author: Anne Dollin
(See Anne Dollin's Google+ profile)


© 1997-2018 Australian Native Bee Research Centre
PO Box 74, North Richmond NSW 2754, Australia