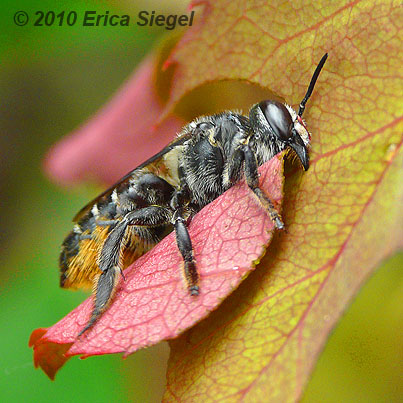 Above: Erica Siegel captured this fantastic close up shot of a leafcutter bee in the process of snipping a piece from a leaf! Notice this bee's powerful mandible or jaw that the bee uses for cutting the leaf pieces.
Above: leafcutter bees carry pollen back to their nests by packing it on an array of stiff bristles underneath the abdomen. The thick pad of pollen being carried by this bee can be seen in this photograph.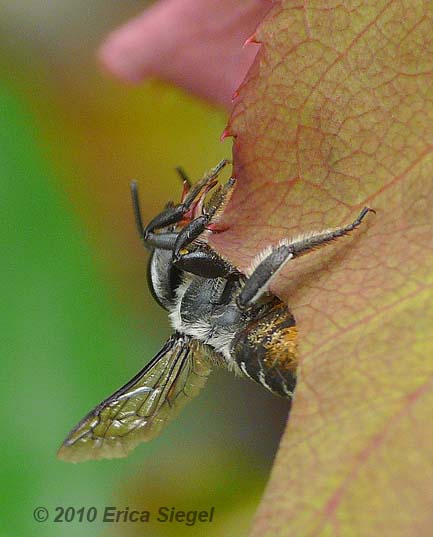 Above: Another beautiful shot by Erica Siegel of a leafcutter bee in action. Leafcutter bees use these leaf pieces to weave cells for their young inside their nest burrows.
Above: the characteristically uniform cuts made in soft leaves by leafcutter bees.
---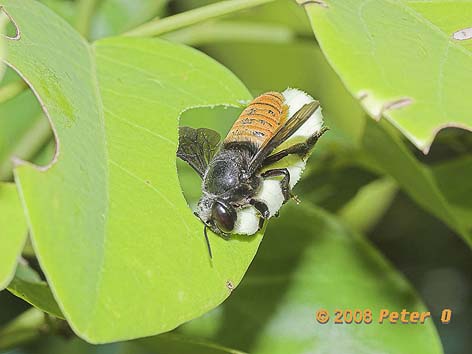 Above: leaf cutter bees grasp the leaf pieces with their legs to carry them back to their nests.
© 1997-2010 Australian Native Bee Research Centre
PO Box 74, North Richmond NSW 2754, Australia